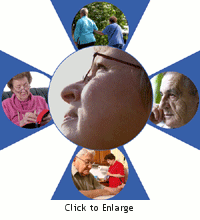 Ministry to the Aged is a Christian, non-profit interdenominational organization founded in 1979 for the purpose of serving the pastoral and spiritual needs of care center residents and their families in the greater Boise area.
We achieve our mission by placing paid chaplains in local care centers and sharing the cost with the facilities. The chaplains provide consistent and dependable pastoral care, with the number of hours varying, depending on the size of the facility. We view ourselves as being an extension of the ministry of local congregations, and whenever possible we work with local faith leaders in ministry to their members. Most residents, however, do not belong to local congregations and many have no religious affiliation, but may be seeking spiritual support. In providing our services we are non-discriminatory. We are available for everyone regardless of their faith background or if they profess no faith at all. We seek to facilitate spiritual growth, but we do not proselytize.
"Our chaplains articulate the needs of older people living in residential
and care facilities in the community; they are the voice of many."
Ministry to the Aged chaplains help families work through their feelings that result from care center placement. They minister to persons who are:
feeling lonely, depressed, or angry
experiencing loss
adjusting to new circumstances
facing suffering and/or death
want to grow spiritually, or are
dealing with a variety of other issues they do not want to face alone.
"It's the care center residents who have benefited the most.
Nothing touches like the compassionate word of God."
Ministry to the Aged is governed by an interdenominational board of directors whose members feel a strong desire to serve God by ministering to care center residents.